Dave Haas is a popular mountain dulcimer teacher, performer and arranger from Charleston, WV. He travels frequently to provide concerts and worshops for dulcimer clubs and music festivals. His teaching methods are widely considered to be incredibly helpful and instructional for musicians of all levels. Dave has taught and performed in over 2/3 of the United States and in the United Kingdom.
Dave is proud to be an Endorsing Artist for Folkcraft Instruments.
Contact him today for more information about merchandise and events!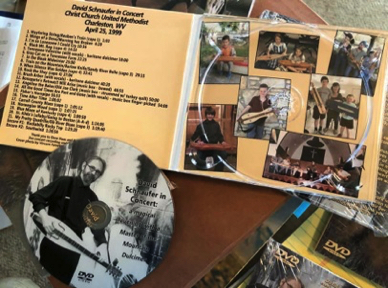 David Schnaufer in Concert DVD
All proceeds to go Dulcimers for David Project.
$25.00
(+$2.99 shipping)
RECENT / UPCOMING EVENTS
Quarantunes Dulcimer Festival (QDF-9)
February 2-5, 2023
On-Line Zoom Festival
https://www.virtualdulcimerfest.com/
Gardner Music Festival
February 24-25, 2023
South Middle School, Morgantown, WV
NOVA Dulcimer Workshop
March 9, 2023
Mt. Vernon Presebyterian, Alexandria, VA
Bill Lloyd
https://www.facebook.com/groups/322437771570375/posts/1522946921519448/
Baltimore Old Time Festival
March 10-12, 2023
Creative Alliance, Baltimore, MD
https://www.baltimoreoldtimefest.com/
OHIO VALLEY GATHERING
March 24-26, 2023
Raddison Hotel, Clarksville, IN
http://www.ohiovalleygathering.com/
FOLKCRAFT Second Saturday Clinic
May 13, 2023
Folkcraft Instruments, Woodburn, IN
Richard Ash
https://www.folkcraft.com/products/second-saturday-clinic-with-dave-haas-may-13-2023
Dulci-More Spring Concert Series
May 20, 2023
Salem Historical Society, Salem, OH
Bill Schilling
https://www.salemnews.net/news/neighborhood-news/2023/02/dulci-more-to-present-30th-anniversary-concert/
Vandalia Gathering
May 26-28, 2023
Capitol Complex, Charleston, WV
https://wvculture.org/vandalia-gathering-2/
Quarantunes Dulcimer Festival (QDF-10)
June 1-4, 2023
On-Line Zoom Festival
https://www.virtualdulcimerfest.com/
Interlochen Mountain Dulcimer Workshop
June 9-10, 2023
Interlochen Center for the Arts
Interlochen, MI
Gary Gatzke
https://www.interlochen.org/mountain-dulcimer-workshop
Kentucky Music Week
June 25-30, 2023
North Bullitt High School, Shepherdsville, KY
Nancy Barker
https://www.kentuckymusicweek.com/
ODPC FunFest
July 13-16, 2023
Osceola Country Fairgrounds, Evart, MI
Appalachian Stringband Festival
August 3-6, 2023
Camp Washington Carver, Clifftop, WV
https://wvculture.org/explore/camp-washington-carver/string-band-music-festival/
Midland Folk Festival
August 24-27, 2023
Fairgrounds, Midland, MI
http://www.folkmusicsociety.org/p/folk-festival.html
J.P. Fraley Festival of Traditional Music
September 6-10, 2023
Carter Caves State Park, KY
Barb Kuhns
Black Mountain Dulcimer Festival
October 14-19, 2023
YMCA Blue Ridge Assembly
Black Mountain, NC
Chuck Moseley
https://www.blackmountainmusicfest.com/
Lancaster Duclimer Workshop
November 4, 2023
Jeff Hamilton
More information to follow
North Georgia Foothills Dulcimer Association
(NGFDA)
November 16-18, 2023
On-Line Zoom Festival
https://www.ngfda.com/events/2nd-annual-virtual-ngfda-fall-festival
Central Florida Dulcimer Festival
February 7-10, 2024
Mt. Dora, FL
Dennis Waltrop
https://centralfloridadulcimerfestival.com/